11 Printed & Fancy Track Pants Under $100
One of my favorite street style trends from SXSW this year was the number of women I saw wearing fancy quitters: printed pants for daytime cut loose & casual like pajamas or harem pants but slightly tailored and nipped in at the ankles, styled with booties, heels or sandals. I've been obsessed with this effortlessly chic look since pinning this popular $48 pair from Nasty Gal over a year ago:
And then it was renewed all over again when I caught these two ladies — one from Australia, one from France — rocking the trend in Austin last week. I am seriously crushing on their quitter style:
Since it's going to get hotter than hell in Texas in, well, a hot minute, I'm daydreaming about printed linen or printed silk pants and scoped out these 11 affordable options for spring & summer — some of which are made in USA or secondhand, and all of which are under $100!
Topping the wish list are these funky Blast from the Pastiche Pants ($30.99, ModCloth) mix zig-zags and geometric prints with a structured high waist. AND POCKETS. J'adore. I would probably style with a slinky sandal rather than booties to up the sexy and tone down the retro, but to each their own!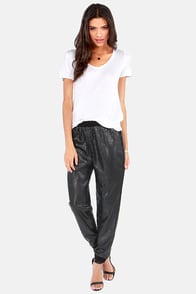 Holy sexpot rockstar, I need these black sequined quitters like whoa. Only one size medium pair left ($65 on sale, Lulus.com) for one lucky gal.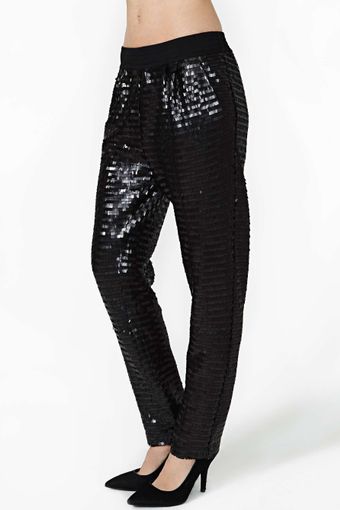 A little less rock star, a little more refined, these Whitney Eve sequined track pants from Nasty Gal are now half price at just $75 and MADE IN USA. Yes, for real, it gets that good. I wish I had these now for a party I'm going to tomorrow night…
Available in more than half a dozen fun fabrics, I'm totally digging these Got Me Twisted
harem pants from Free People ($78), especially the floral and blue & white ticking stripe versions.
Combining two of my favorite pant trends, world prints and tux stripes, these stylish quitters from Thml are perfect with a simple white tee. ($59, Piperlime.com)
Ringing in just under $100, these snake print track pants from Michael Kors seriously make it work. ($99.50, Zappos.com)
.
From a distance, these cute slouch pants from LA't by L'AGENCE look like simple polka dots, but they actually have stars upon thars! ($87.50 on sale, ShopBop.com).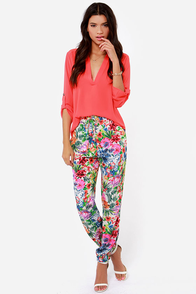 Also from Lulu's, these Island Sakes floral print pants ($55) make me want to head somewhere breezy and poolside ASAP…or just to the nearest patio for frozen drinks & happy hour.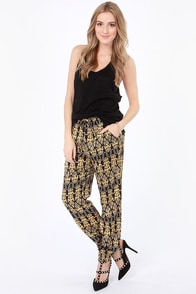 The closest thing to the pair worn by my new French friend at SXSW, these Ark & Co baroque print pants ($24.50 on sale, Lulus.com) would transition beautifully into fall…should the trend stick around.
Though not technically the exact style, for $10.49 on ThredUP, I'd get these adorable windowpane-printed silk pants tailored & nip them in at the hems. Just look at that tie at the high waist!
For all my girls still stuck in the polar vortex, I adore these winter-weight quitters in a marbled jersey with faux leather trim. Plus, they're on sale for just $41.40 on ASOS.com.
What do YOU think about the fancy quitters trend? Would you wear them? Do you already own a pair? Love to hear from you!
Story: Copyright 2013, Shoestring LLC.
Photos: Courtesy, various retailers.
Note: By clicking on some links contained in this story, Shoestring may receive affiliate commission when you make a purchase, which helps to keep the magazine in operation. All reviews & opinions are unbiased & my own, though!